Locomotives TRAXX are the new quality on Polish tracks. Thanks to using them along with the existing bidirectional double-decker carriages for the first time in Poland we will introduce push-pull trains. It will be an important step not only to improve the travelling conditions, but also to build new standards of passenger railway transport - said the Chairman of the Board of the company "Koleje Mazowieckie" - Artur Radwan. Adam Struzik, the Marshal of the Mazovia Voivodeship, who participated in the presentation of the fleet, admitted that the first self-government railway company is not only changing itself, but also it is the cutting edge of Polish railway. Vice Prime Minister and Minister of Economy – Waldemar Pawlak, who also participated in the receipt of locomotives emphasized that the changes introduced to the railway should be well-considered, so that not to influence negatively on passenger service. The payment system of different railway companies should be normalized. It will simplify using the service of particular railway companies. A passenger buying a ticket for travelling from point A to B shouldn't consider whether the ticket is honoured by the particular company or not. – he said. The new locomotives will be joined to the double-decker carriages which have been used for three years and which were also delivered by the company Bombardier. It will enable to take full advantage of their possibilities – double-decker carriages will be pulled or pushed by the locomotive, which will save time while changing the direction.
From September new trains will go to Radom, Płock, Działdowo and Łukowo
The technical data of the locomotive Traxx P160 DC for KM:
• Loading gauge: UIC 505-1 
• Rated voltage: 3 kV DC 
• Wheel arrangement: Bo'Bo 
• The number of traction motors: three-phase asynchronous motors
• Maximum power: 5,6 MW 
• Maximum traction power while starting: 300 kN 
• Electric braking force: 150 kN 
• Electric braking power: 2,6 MW 
• Maximum velocity: 160 km/h 
• Traction converter: IGBT cooled by water
• Pantographs: 2 
• Distance between buffers: 18 900 mm 
• Maximum width: 2 977 mm 
• Diameter of a new wheel: 1 250 mm 
• Diameter of a worn wheel: 1 170 mm 
• Service weight: around 84 t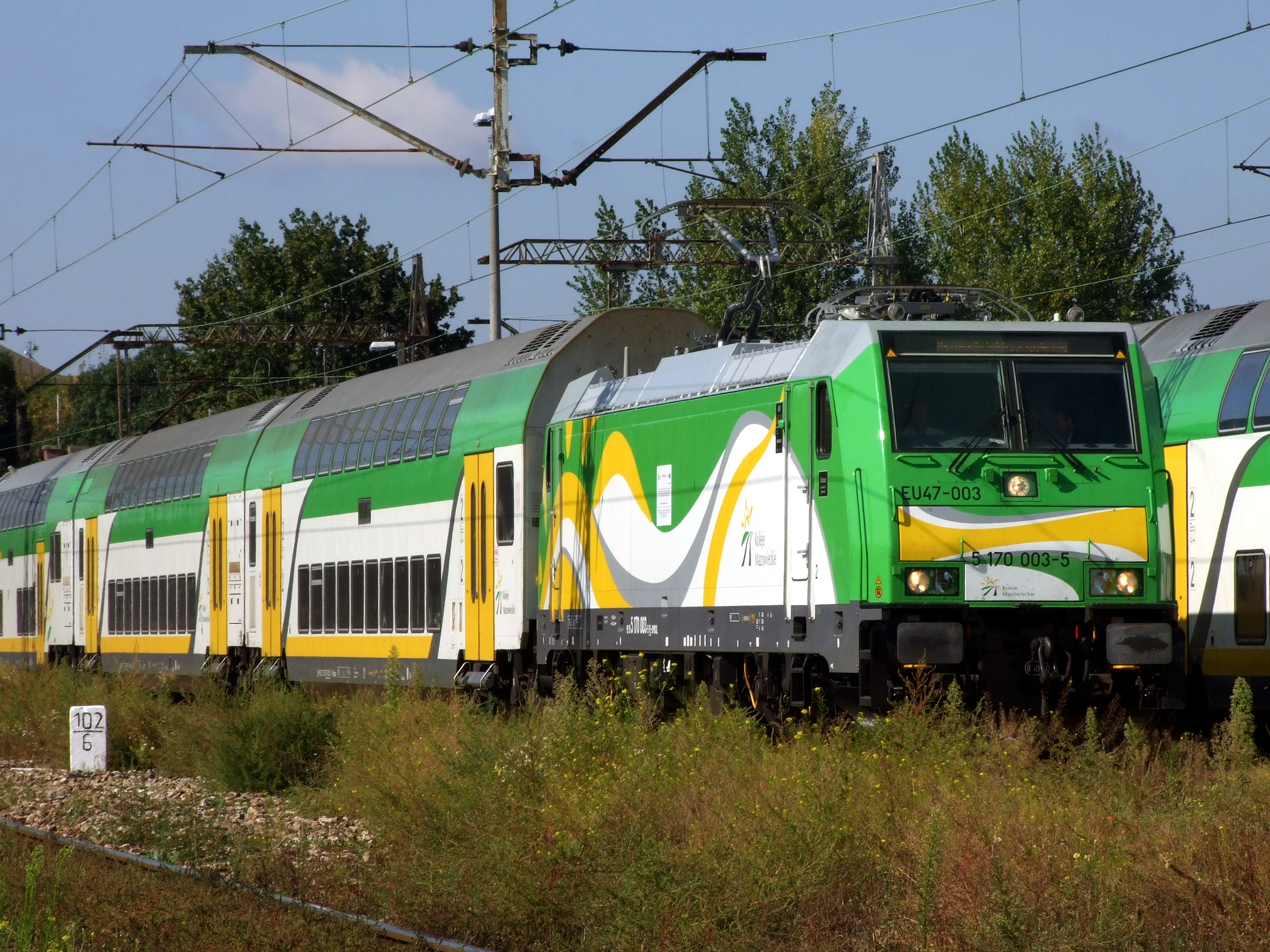 Further information can be found on the website of the Local Government of the Masovian Voivodeship:
http://www.mazovia.pl/aktualnosci/art,2880,nowe-lokomotywy-elektryczne-d... [2]